---
Financing, intelligence, business and cultural Travel, Shiyan Wisdom Cultural Travel is just beginning
---
Science and technology enables Shiyan Cultural Travel with the investment promotion. On the morning of April 10, the road show of Shiyan Smart Tourism and Cultural Tourism Project was successfully held, with nearly 100 government leaders, representatives of digital information industry and representatives of cultural and tourism enterprises, who are striving to the goal of smart cultural travel and city, just like meeting friends and planting plane-trees to attract golden phoenix.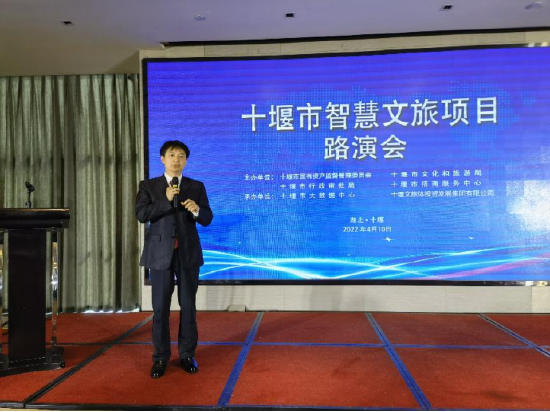 Exploring new path of operation from all sides
Chenglin Sun, Deputy Secretary-general of Shiyan Municipal People's Government; Jiang Bian, Director of Shiyan Culture and Tourism Bureau; Ying Chen, Director of Shiyan Bureau of Administrative Examination and Approval (Big Data Center); Xiangdong Li, Deputy Director of Shiyan Investment Service Center; Hua Tong, Deputy Director of Shiyan Culture and Tourism Bureau; Yingjun Li, Deputy General Manager and Party Committee Member of Shiyan Culture, Tourism and Sports Investment Group; Kangsheng Fan, Executive Director of Shiyan Culture, Tourism and Sports Investment Group and General Manager of Tourism Company; 16 OTA platform companies, 4 communication operators, 4 software companies, 7 commercial banks, 2 securities institutions, 3 construction and investment institutions, and 3 local digital enterprise representatives, including Baidu, Sina, CYTS, Donkey Mama, Meituan, Tidal Group, Jianglv Technology, Jingdong Technology, Jiangsu Changyou; Xinhua News Agency, Hubei Daily, Hubei Radio and Television, Shiyan Radio and Television, Shiyan Evening News and mainstream media attended the meeting. Yibo Zhou, Secretary of the Party Committee and Chairman of Shiyan Cultural Tourism Investment and Development Group Co., LTD presided over the meeting.
Chenglin Sun, Deputy Secretary-General of Shiyan Municipal People's Government, on behalf of Shiyan Municipal Party Committee and Government, extended a warm welcome to all the guests attending the event. He said that Shiyan has not only the broadest space for the development of cultural and tourism industry, but also the most abundant resources to cultivate pillar industries, as the most relaxed investment environment for domestic and foreign entrepreneurs. Shiyan welcomes all outstanding entrepreneurs to invest the business, integrate digital intelligence and cultural tourism industry, jointly undertake the mission entrusted by the times. It will accelerate the large-scale deployment of 5G network in tourist destinations and cultural venues, effectively make the local cultural and tourism industry understand the industrial change brought by the new infrastructure, serve people's better life, and help the construction of the strong cultural city.
Revitalizing and integrating cultural and tourism resources to build a regional central city in western Hubei province
Hua Tong, Deputy Director of Shiyan Culture and Tourism Bureau, introduced the development of Shiyan culture and tourism industry to the guests.
Shiyan has 90 A-level scenic spots, ranking first in the province. As a world cultural heritage site, the 5A-level scenic spot Wudang Mountain enjoys a worldwide reputation. As the only national tourism resort in the province, the Wudang Taiji Lake Tourism Resort has improved its infrastructure. There are 10 state-level forest health care pilot bases, 60 star-rated hotels, 59 independent legal person travel agencies, more than 1,000 star-rated homestays and farmhouses, with nearly 10,000 employees in the city. The complete industrial basis will accelerate the release of the potential smart cultural tourism project, with increasing dividends.
As a regional central city in Western Hubei province, Shiyan comprehensive tourism strength ranks the top three in the province. Shiyan received 86 million tourists in 2021, up 8.49% year on year; tourism revenue reached 89 billion RMB, up 9.12% year on year. At present, there are 166 cultural and tourism projects under construction in the city, with a total investment of 16 billion RMB. Nearly 30 projects were signed, with a total investment of 32 billion RMB. It focuses on cultural and tourism complexes, forest health, car camping sites, rural tourism, industrial tourism, red tourism with sports and sports venues. During the 14th Five-Year Plan period, Shiyan will integrate the high-quality resources of "One Core and Two Wings", play the role of mountain, waters and Motor City as three name cards, strive to build a "Two Areas and Three Belts" regional tourism development pattern, form three links belts of "leisure and recreation belt around the city, ecological and cultural tourism belt along the Han River with Bamboo Forest Health and Holiday Belt", so as to create a national all-for one tourism demonstration city, strive for an Oriental international leisure and health tourism destination and cultural and leisure resort.
Shiyan Cultural tourism metaverse + Cultural tourism + city management
On the same day, Ms. Zuoyan Qin from Shiyan Cultural Tourism Investment Group Co., Ltd. vividly explained the planning and prospects of Shiyan Smart Cultural tourism project. According to the relevant requirements of the Municipal Party Committee and government on the construction of smart city and smart cultural tourism, Shiyan Cultural Tourism Group has comprehensively improved the resources integration, smart service and data sharing capabilities. It has set about building a regional smart cultural tourism platform based on the information network platform. As a part of the Super City APP of Shiyan City, Shiyan Smart Cultural Tourism Platform is the second pillar industry cultivated by Shiyan City, also the most powerful technical, economic and intellectual support to build an international tourism destination.
Relying on the cultural and tourism resources, based on the regional tourism and tourist services of Shiyan City, the platform promotes the application of big data, 5G, Internet of things, virtual reality and other technologies in the tourism industry, then gradually realizes the digitalization of real tourism scene, management, application and life. Moreover, it strives to promote smart cultural tourism to move forward into a smart society through the construction of professional and systematic tourist service system and digital operation system.
In the future, tourists can find guides, toilets, parking lots, food, performing arts, health and all the services they need through the Shiyan Smart Tourism Platform for convenient and fast service anytime and anywhere; in the future, citizens can open up urban services, improve the use of efficient resources, optimize urban management and improve the quality of life through the Shiyan Smart Tourism Platform.
Shiyan Smart Tourism Platform will be structured through "1+44369".
"One Center" is Shiyan Cultural Tourism Data Center, which is not only a comprehensive cultural tourism data center at the municipal level, but also meets the needs of the overall situation and real-time dynamic analysis of cultural tourism in each county and urban area within its own jurisdiction.
The "four" big port, except for users, enterprises and government, the "operation end" of smart cultural tourism is not only a pure background technology management, but also a professional operation organization for users, market and society, which links government affairs, industry and consumption for services.
The "four" level refers to the four-step strategy for the construction of the smart cultural tourism platform, from the core pilot level to the whole industry level, then to the whole region level, and finally to the whole society level, so as to realize the high integration of life and tourism and form a real metaverse, thus highlighting the cultural tourism value, city value and digital economy value.
"Three" attributes of e-commerce, media and social
"Six" elements, around the tourists with dining, accommodation, travel, tour, shopping and entertainment with a full range of tourism services.
"Nine" functions: 1. E-commerce of all tourism products and services; 2. Data analysis and application services; 3. User portrait function; 4. Marketing diversion function; 5. Intelligence expansion function; 6. Media communication function; 7. Real-time transaction settlement function; 8. Ecological chain win-win symbiosis ability; 9 Industry regulation and service functions.
Except for powerful functions, the operation mode of Shiyan Smart Cultural Tourism Platform takes reform and innovation as a breakthrough, establishes a market-led government regulation system and mechanism, then maximally stimulates the enthusiasm and creativity of the whole society, so as to help Shiyan digital development, accelerate the construction of a new smart city, constantly enhance the city level and core competitiveness. It will attract tourists at home and abroad to conveniently "Reach Wudang with Health Care Shiyan", boost Shiyan "one major three five new" industrial layout, drawing on the "upward" high quality development.
We hold this road show for Shiyan Smart Tourism and Cultural Tourism project to comprehensively publicize Shiyan smart tourism, promote Shiyan cultural tourism resources, seek partners and win-win development. We sincerely invite people of insight, strategic investors and industry elites at home and abroad to jointly explore the path of project construction, project investment, investment operation, financing, intelligence, business and cultural travel, so as to promote the integrated development of urban economy, life and governance, then give digital power to the construction of Shiyan culture, tourism, health and leisure resort for the beautiful and livable park city.
---
Related Download
There is no related content!
Group public account
You Xianer Baidu small program
You Xianer micro channel mini program
You Xianer wechat public account
CONTACT US
Address: No. 83 North Beijing Road, Wuyan Sub-district, Maojian District, Shiyan City, Hubei Province
TEL:+86-719-8697138
This website already supports IPV4 / IPV6 bidirectional access